Most golfers will either suffer a back injury or be restricted in playing golf due to back, neck, shoulder, elbow or wrist pain. Improving mobility and muscle balance can help prevent these problems. Good postural control, spinal mobility and muscle balance will not only improve your swing, but prevent injuries. Video analysis of your body movements can highlight problems and develop an exercise program to rectify them.
Chris Keevil has completed specific golf rehabilitation courses called 'Get Fit for Golf' and 'Fit for Golf' specifically designed to improve golfers' performance through improved physical health. This is recognised by the PGA and used by numerous professional golfers around the world.
Consequences of a poor swing
Most golfers will either suffer an injury or be restricted in playing golf at sometime in their life. A poor golf swing can lead to:
Altered swing path and ball flight.
Reduced power and distance.
Injury.
Outcomes of the Program
At the Epsom Physiotherapy and Sports Injury Clinic we aim to:
Increase power, control and co-ordination leading to consistency in the swing.
Improve muscular flexibility allowing the body to adapt and make the swing easier.
Encourage correct posture.
Reduce injury levels.
Improve handicap.
What the session involves
A detailed history of your medical condition relating to your golf.
Video analysis and interpretation by an experienced Chartered Physiotherapist which is emailed to you for later reference.
A physical examination to identify problem areas (stiffness, weakness, muscle imbalance and posture).
Selection of specific exercises related to these problems in a personally designed, written and illustrated program which you take home with you.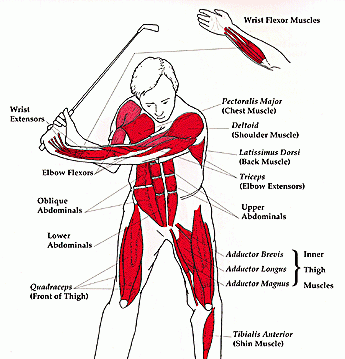 Also Available
Reassessment at a later date to see the changes and improvements via video analysis.
We can work with your club professional on areas they identify as weak or restricting your swing.
Instigate further treatment to alleviate any existing injuries, mobilise stiff areas and treat any pre-existing injuries.
Appointments
Telephone 01372 747 719 for more information or an appointment. We will do our best to see you as soon as possible including in the evening or on Saturday. Home visits can also be made when necessary. Please check with your insurance company regarding the extent of your cover for physiotherapy treatment.
Receptionists are available to answer telephone calls
Monday to Thursday 9am to 8pm
Friday 9am to 6pm
Saturday 8.30am to 1pm